Nestled in the backstreets of Aspra you'll find the Museo dell'Acciuga – a salty fisherman's tail of Sicilian history and mafia resistence! Creator and modern day bard Michelangelo Balistreri lovingly takes his visitors through the story of the humble anchovy, using unique perspectives and even a song or two.
Michelangelo explains how this silvery little fish has managed to make a massive impact, shaping Sicilian communities, coastline and nature.
Travelling in huge schools, the oily and potent anchovy have always been highly prized, but they also have links to a fight against organised crime.
Brothers Michelangelo and Girolamo inherited the site as a factory. To preserve the traditions of preserving, they switched production to a new factory in 2005 and set-about building their museum.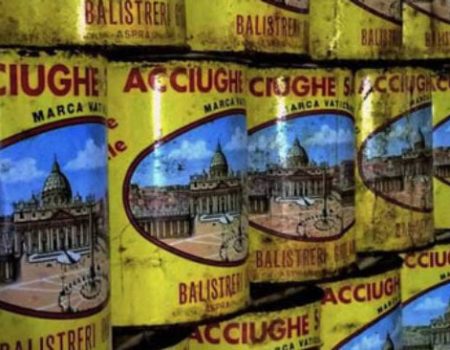 A few years later a former school-mate of Michelangelo's tried to extort 100,000 Euros out of the entrepreneurs, but they took the brave decision to resist and called in the Carabinieri. Ever since they've lived under 24-hour-a-day police protection.
Not content with making a dangerous stand, they've also turned the museum into an anti-mafia protest, painting the remains of old fishing vessels with portraits of victims and poems against organised crime.
Be prepared to laugh and cry as the gifted and genuine Michelangelo navigates you through a museum unlike any you've experienced before.